ALL-NEW OPTIONS FOR 2018/19!

As a BSO subscriber, you know that we are always looking for ways to improve your symphony experience. This year, we have made updates to our season ticket programs by simplifying our seating areas and pricing, making it even easier to enjoy the concerts you love to attend!  Please make sure to read through all our options and choose the one(s) that are right for you!
Symphony Passport
BSOSAP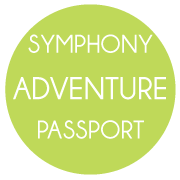 With the Symphony Passport, patrons can escape to the BSO and enjoy the world-class music throughout the season. This program is designed to provide NEW* patrons, ages 21 and up, with an easy, flexible, and affordable way to take a break from their busy lives and experience the BSO's exceptional programming at the King Center for the Performing Arts. Passport holders will have a choice of up to four (4) subscription performances to attend during their first season with the BSO and have the option to choose their performance up to the day before the concert. Plus...you'll save on box offices fees!
---
Additional Information:
Symphony Passport holders will receive the opportunity to attend their choice of up to four (4) subscription performances.

Option 1: Choose your concerts at time of purchase.
Option 2. Choose your concerts at random.

For Option 2, Passport holders must contact the BSO Office by noon the day before their subscription performance of choice to request tickets.

Seating will be best available.
Valid for only one season.
Can not be combined with any other offers or discounts.
---
*Please note: Only patrons who are NEW to the Brevard Symphony Orchestra can purchase the Symphony Adventure Passport. Current or previous subscribers are not eligible. Your order may be cancelled if you have previously subscribed to the BSO. Sorry, no refunds or exchanges.

---
We are also taking orders by phone, please call 321.242.2024 to purchase. You can also visit our administrative offices located at 1500 Highland Avenue, Melbourne. If you would like more information, or you would like to be added to our mailing list for next season's brochure, please contact the BSO office at 321.242.2024. All season tickets will be mailed in mid-September. Can not be combined with any other offers. Sorry, no refunds.
---
Season Subscriptions are subject to these terms and conditions.
Already know which concerts you want to choose? Choose your four below!
October - 8PM (0) November - 8PM (0) January - 8PM (0) February - 8PM (0) March - 8PM (0) April - 8PM (0) January - 2PM (0) February - 2PM (0) March - 2PM (0)
How did you hear about this?
If you answered "other," please explain.
---
Questions?  Call 321.242.2024. Sorry, no refunds.